Rega Planar 1 Record Store Day 2022 Limited Edition Turntable
23 April 2022 | Gary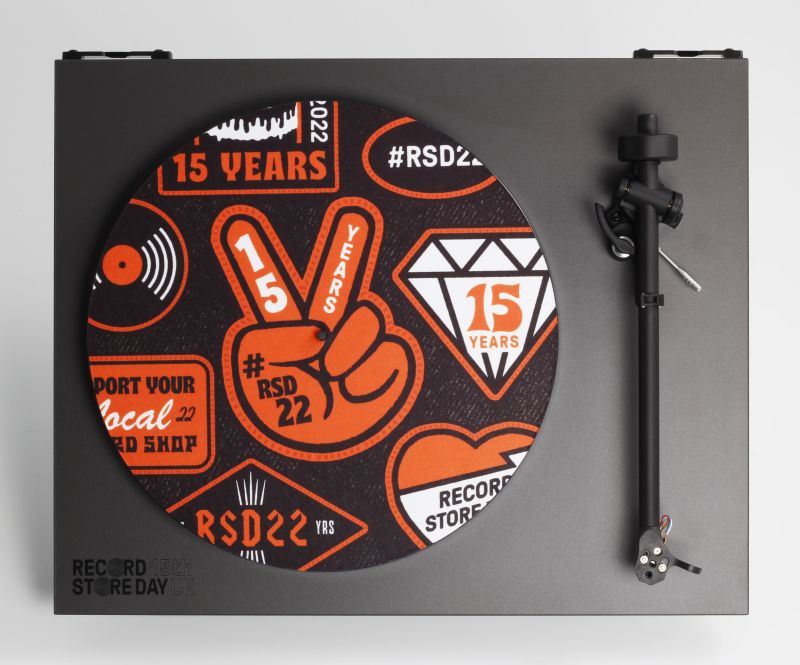 Rega announces limited edition turntable for Record Store Day 2022
Celebrating 15 years!
Rega are once again delighted to be the official turntable and audio partners for Record Store Day UK. To celebrate their 15th anniversary we have created 500 special edition RSD branded turntables based on the multi-award winning Rega Planar 1. This special edition is customised with an exclusive RSD mat, RSD lid badge and RSD silk screen logo and will be a strictly limited edition sold only via participating independent record stores and Rega dealers.
50 of the 500 turntables will contain a voucher that will entitle the finder to an exclusive artist signed book (full list below). These turntables will not be sold online on the day, so to guarantee one, you need to get down to your nearest independent record store or participating Rega dealer to pick one up. Once they are gone, they are gone!
UK SSP £299.00
This turntable is extremely simple to operate and can be set-up in under 30 seconds. Like all Rega products, this turntable is meticulously handmade right here in the UK. The RSD 15th Anniversary Planar 1, uses a high specification low noise 24 v motor, a handmade RB110 precision tonearm and factory fitted Rega Carbon cartridge all designed to deliver an exceptional audio performance.
Record Store Day will take place on Saturday 23rd April 2022.
Record Store Day is the one day of the year when over 240 independent record shops all across the UK come together to celebrate their unique culture. Special vinyl releases are made exclusively for the day and many shops and cities host artist performances and events to mark the occasion. Thousands more shops celebrate the day around the globe in what's become one of the biggest annual events on the music calendar.
The Record Sore Day event was conceived in 2007 at a gathering of independent record store owners, as employees wanted a way to celebrate and spread the word about nearly 1400 independently owned record stores in the US and thousands of similar stores internationally. The first Record Store Day took place on April 19, 2008. Today there are Record Store Day participating stores on every continent except Antarctica.
This is a day for the people who make up the world of the record store—the staff, the customers, and the artists—to come together and celebrate the special role these independently owned stores play in their communities.
While there's only one Record Store Day a year, the organisation works with both independent and major labels throughout the year to create contests, special releases and promotions in order to spotlight the benefits of supporting these independent, locally owned stores with music purchases throughout the year. In 2010, Record Store Day coordinated its first RSD Black Friday event, which gives record stores exclusive releases as part of the attempt to redirect the focus of the biggest shopping day of the year to the desirable, special things to be found at local stores. #RSD22e re
50 of these 500 Limited Edition Turntables will contain a voucher which can be redeemed online for a FREE signed hardback book from one of the following artists:
The Listening Party by Tim Burgess
One Two Another by Tim Burgess
Tales of Boomtown Glory by Bob Geldof
Time is Tight: My Life Note by Note by Booker T Jones
Set the Night on Fire by Robby Krieger
Wham! George & Me by Andrew Ridgeley
Wrote for Luck by Shaun Ryder
How to Be a Rock Star by Shaun Ryder
Shaun Ryder's Book of Mumbo Jumbo
Glastonbury 50 by Emily Eavis & Michael Eavis
My Life in Dire Straits by John Illsley
It Takes Blood and Guts by Skin & Lucy O'Brien
Growing Out Of It: Machinations Before Madness by Lee Thompson
Boys Keep Swinging: A Memoir by Jake Shears
Stories to Tell: A Memoir by Richard Marx
Spinning Plates by Sophie Ellis-Bextor
Bridge Over Troubled Dreams by Delta Goodrem
Ten Thousand Apologies by Adelle Stripe & Lias Saoudi
My Rock 'n' Roll Friend by Tracey Thorn
Remain in Love by Chris Frantz
Bananarama: Really Saying Something by Sara Dallin & Keren Woodward
In a Picture Frame by Midge Ure
Rock 'n' Roll Sweepstakes: The Authorised Biography of Ian Hunter
Tales of Tone and Volume by Bernie Marsden
Vouchers for the above Signed Books are being inserted into turntable packaging on a random basis, the code will be for a specific book from the above list. Full details of the redemption offer are included on the voucher, books will be supplied directly to the lucky winners.