Give Your Equipment A Better Home: Quadraspire's New Range
20 August 2015 | Gary
Quadraspire's new furniture range

Quadraspire LP QubE
The best solution to all your lp storage needs
The LP Qube is the best solution to all your LP Storage needs. Each Qube can hold up to 150 LPs with glass dividers providing good protection and optional glass doors to keep them dust free.
The HiFi Qube, is a performance Hi-Fi Cabinet that can house your hifi & av components discreetly whilst enhancing your system both sonically and visually.
It can also be connected to both the CD & LP Qube to create a media wall. Glass doors, adjustable feet & castors are available as optional extras. Not only is this ideal for hifi but a great compact TV Cabinet.
q4 Evo Hifi Rack
Delivering acoustic performance with style
Twenty years ago Quadraspire set out to develop a Hi Fi rack that would deliver acoustic performance with style. This was achieved by combining solid aluminium columns with specially engineered shelves to create a light and rigid construction.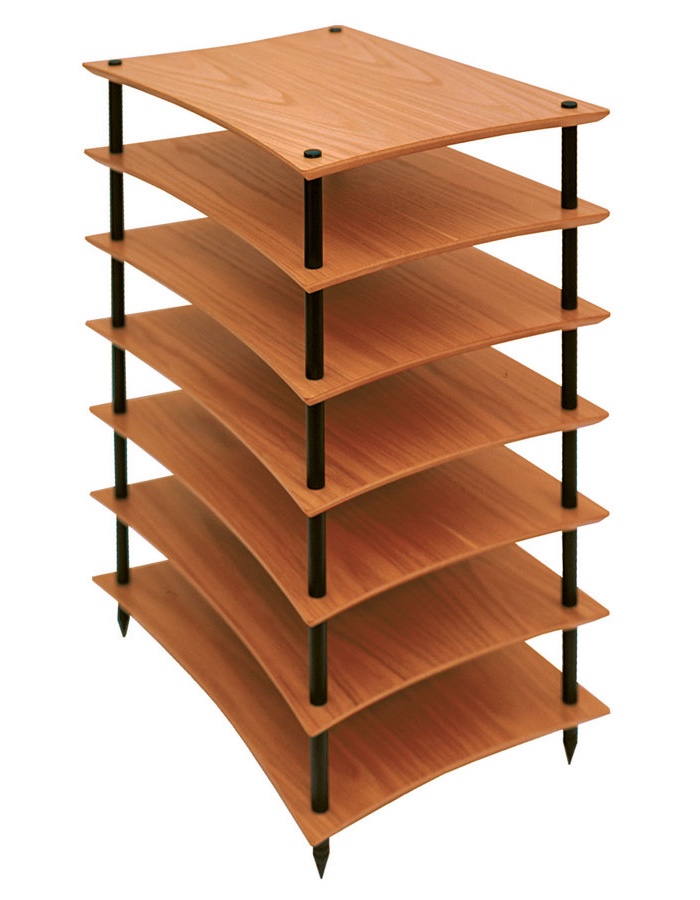 Q4EVO is a major upgrade of Quadraspire's original Q4 rack that was originally launched in 1995. The Q4EVO is a practical modular solution combining shelves with aluminium columns and feet to enhance your sound system both sonically and visually. The Q4EVO is the same as the original Q4 rack except for some intricate machining on the underside of the shelf which will give improved performance.
– "the cheapest rack here gives our kit a cohesive sound with a well-balanced treble, taut and expressive bass and a supple and emotive midrange" What hifi November 2009.
To gain maximum performance from your hifi or av system, the furniture you place it on is as equally important as all the other components. Each component & cable is susceptible to electrical & mechanical noise, degrading overall system performance. In theory total isolation is desirable, but in reality impossible.
Quadraspire designs achieve optimum isolation through a combination of distinctive curves and chamfered edges minimising resonance and standing sound waves. Aluminium columns eliminate residual magnetism and the adjustable spiked feet allow efficient floor de-coupling. Real wood-veneered shelves ensure good self-damping properties. Where space is a premium and isolation is a must, use the unique Q4 wall bracket with Q4 shelf.
The Q4 Evo is available in a range of high quality finishes and dimensions.
The X-Reference
When only the best will do
To extend the benefits of the Bronze upgradeto all the components in a system Quadraspire developed the Xreference. Combining the technology of the SVT rack and the bronze upgrade Quadraspire effectively created a rack within a rack making the entire system more musical and enjoyable.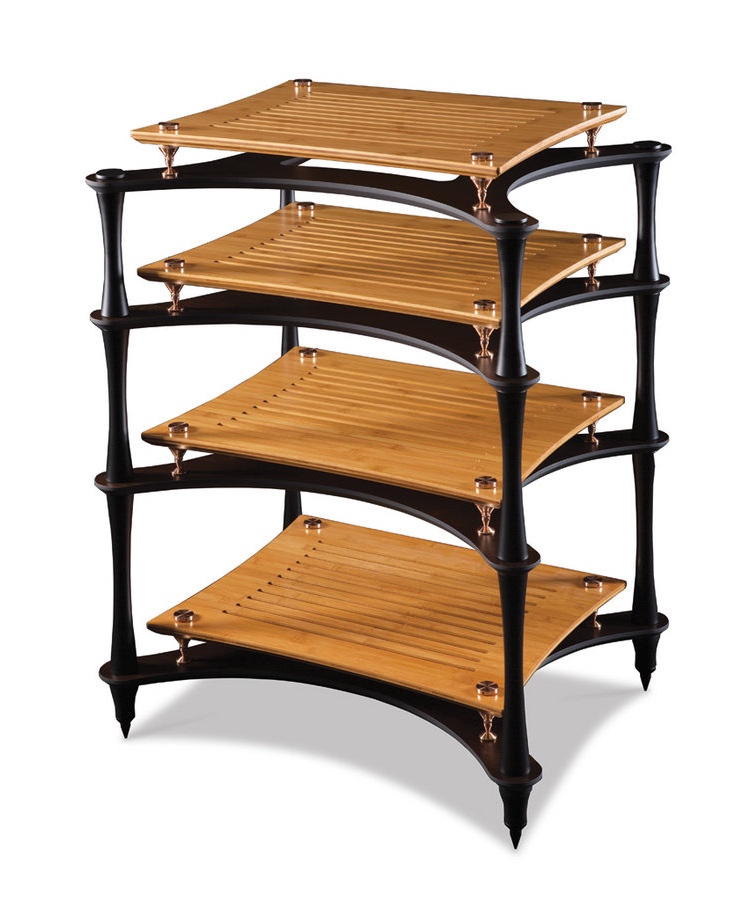 Another key to the success of our racks is the shape of the shelves. Square or rectangular shelves encourage standing waves which can distort the sound of your system. By using a curved design we can avoid parallel lines thereby reducing standing waves as well as reducing mass. Quadraspire extended this principal to the Xreference shelf employing extensive listening tests using the tried and tested technique of tuning by ear in the same way as the finest musical instruments are developed. The end result is the Xreference shelf with a cut out in the middle to also reduce mass as much as possible. The X shelf is made from Laminated Bamboo and is coated in Nextel for sound deadening, and the edges employ a more acute edge than normal to lower weight and assist energy dissipation. Finally small Bronze spike locators hold the shelf in place, shaped conically to give a natural sound.
The Xreference uses a larger diameter column and a larger thread to lock the X shelves together to be very rigid whilst still remaining reasonably light. SVT shaping on the columns and internally where the columns clamp the X frame further reduce parallel lines to reduce standing waves and improve sound.
This results in a rack that makes equipment perform to a surprising level, offering a very low noise floor for greater definition of music and opening up the soundstage in all dimensions.