Free £300 Service with Cyrus QRX Upgrade!
Thursday, 1 August 2019 | Gary
Spend £599 upgrading your Cyrus amplifier or preamplifier to the NEW QXR specification and get a free full service worth £300*
*The Product must be in working order for the upgrade to be carried out, otherwise additional charges will apply. Service includes fully updating a product, refreshing worn components, installing the latest production updates and performance testing.

QXR is an acoustic revelation for your Cyrus system - an ultra-high-resolution digital interface. Improving the sonic performance in all of these products:
6 Series

6 XP, 6 XP DAC, 6a, 6 DAC

8 Series

8 XP, 8XP DAC, 8 DAC, 82 DAC, 8a, 8 XP Qx DAC, 8 DAC Qx, 82 DAC Qx

Pre Series

Pre XP, Pre XP DAC, Pre DAC, Pre2DAC, Pre2DAC Qx DAC, Pre DAC Qx, Pre2DAC Qx
QXR unearths a new level of detail, separation, and resolution from your music, even from older sources such as CD, whilst further enhancing the refined texture, wide soundstage and precise timing you expect from your Cyrus experience.

Capable of handling file resolutions up to and including 32bit/768k or DSD 512 through an all-new asynchronous USB bridge and up to and including 24bit/192k via SPDIF, the specification only hints at the performance this upgrade will deliver.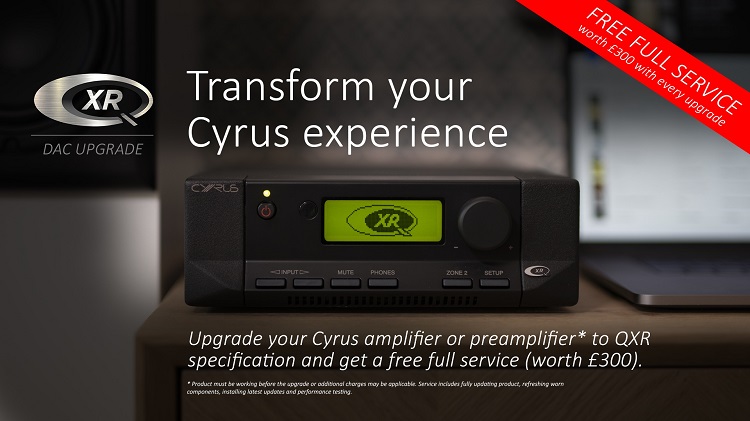 Latest News Articles

Wednesday, 8 April 2020 | Simon

Buy a Ruark R5 or R7 and get the MRx to use as an extension speaker with £150 discount!

Tuesday, 7 April 2020 | Gary

Receive £500 off any Xtension model or £1000 off any Signature model when you trade in your turntable!

14 Comments

Tuesday, 24 March 2020 |

Gary

Please read this important message to our customers.

Tuesday, 24 March 2020 | Simon

Purchase the Klipsch R-620F Speakers for 20% off of a Klipsch Subwoofer!

Tuesday, 24 March 2020 | Simon

Buy the award winning Pro-Ject X1 or the luxurious Pro-Ject X2 and get a completely free Spin Clean record cleaning machine, worth £89.99!

Saturday, 21 March 2020 | Simon

Try any Cyrus One Series product at home in our free home trail

(*subject to terms, deposit is required)

Friday, 20 March 2020 | Gary

Beautiful sound for not a lot of dough.

Saturday, 22 February 2020 | Gary

Save your self £397.50 on this excellent Cyrus Signature Phono Stage bundle to promote Record Store Day 2020.

Valid from 22 February 2020 until 18th April 2020

Tuesday, 18 February 2020 | Simon

Very Limited Edition AVID Ingenium Plug and Play in White available now!

Tuesday, 3 December 2019 | Gary

Receive a free B&W Formation Audio streamer with certain 700 Series purchases!

Tuesday, 12 November 2019 | Gary

For a limited time, all new Roon Nucleus or Nucleus+ purchases receive £150 off the award winning Pro-Ject Audio Systems Stream Box S2 Ultra

Tuesday, 22 October 2019 | Gary

We have just taken delivery of the breathtaking Mola Mola range of products- On permanent demonstration

Remove everything that isn't the music, so what remains is the music

Friday, 18 October 2019 | Simon

Trade up to Meridian with 20% off when you trade in selected products

Tuesday, 1 October 2019 | Simon

Buy a Ruark R5 or R7 and get the MRx to use as an extension speaker with £150 discount!

Friday, 27 September 2019 | Gary

Purchase one of Cyrus's multi award winning CD Players with either the Pre2DAC, 82DAC or 6DAC amplifier and receive a free QXR upgrade worth £600!

Monday, 16 September 2019 | Simon

See the latest news from Roon, including their production facility move and facelift, here.

Monday, 2 September 2019 | Gary

Receive a brand new 2019 iPad free of charge when you order the Auralic Vega G1 Streaming DAC, from the 1st September running through until 31st December 2019.

Monday, 17 June 2019 | Simon

Free Grun adapter and cable with every Mavros Grun Cable purchase!

Wednesday, 1 May 2019 | Simon

Massive savings available on selected Mark Levinson products!

1 Comment

Thursday, 25 April 2019 |

Gary

Trade-in any old pair of speakers and receive 20% off RRP!