Acoustic Research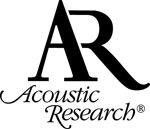 For more than 60 years, Acoustic Research has shaped the modern home entertainment industry. The AR brand's history of innovation, advanced technologies and unique design for the consumer includes the introduction in 1959 of the dome tweeter (still used in today's speakers). AR focused on bringing better music listening experience by bringing better products in the music reproduction chain. While the highly acclaimed acoustic suspension speakers were considered one of the most well-known innovations that set the record of largest market share ever held by a loudspeaker manufacturer, the belt-drive turntable with T-bar sub-chassis suspension marked the revolution in the vinyl playback and delivered remarkable improvement in music reproduction.

Apart from highly acclaimed products around the music reproduction chain, Acoustic Research has also proactively addressed the requirements of current and anticipated audio/video equipment standards to achieve the optimum level of performance through its line of accessory products.
In 2013, Acoustic Research introduced the M1 portable high fidelity music player that played lossless FLAC music files directly and featured the built-in amplifier that unleashed the full potential of audiophile headphones. Inheriting the spirit of the classic XA series turn-table, M1 delivered revolutionary performance as a portable music player.