Unison Research CD Players

For more than 15 years Unison Research products have been admired and appreciated around the world. From the very beginning Unison's purpose was to provide enjoyment throught listening to music. To that deceptively simple goal they bring a lifetime of experience in both valve and solid-state electronics design - and a genuine passion for making equipment that gives it lasting pleasure. Look inside any Unison Research CD player or amplifier and you will find renowned build quality, careful attention to detail and a very high standard of material content. Many of the key components such as the mains and output transformers which are vital for good sound quality are made in-house.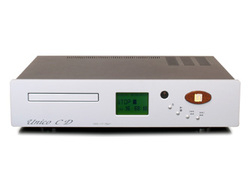 Unison Research CD Players. The essence of any piece of audio equipment lies in the way it reproduces music. Listen to your music through a Unison Research CD player and you will hear a natural purity of sound, free from strain or artifice.
| | | | |
| --- | --- | --- | --- |
| | | | Unison Research Unico CD Uno CD PlayerFrom: £2,249.00 |