Cyrus Record Store Day 2020 Phono Promotion Offer
Saturday, 22 February 2020 | Gary

Cyrus Record Store Day 2020 Signature Phono Promo. Get a Cyrus PSXR-2 for half price
Cyrus Phono Signature RRP £1495.00
Cyrus PSX -R2 RRP £795.00
Total Normal Retail Price £2290.00
Cyrus Record Store Day 2020 Phono Promo Price £1892.50 (Saving of £397.50) Half price on Cyrus PSX-R 2
Valid from 22 February 2020 until 18 March 2020.
Please note this offer is only valid when the Phono Signature and PSX-R 2 are ordered together.
Cyrus Phono Signature Phono Stage
THE NEW PHONO SIGNATURE IS ARGUABLY THE MOST ADVANCED PHONO PRE AMPLIFIER AVAILABLE ANYWHERE IN THE WORLD TODAY.
Phono Signature has been designed to allow up to four turntables to be permanently connected because many vinyl enthusiasts enjoy multiple turntables, arms or cartridges for different records. Each of the four inputs can be accurately matched to the exact specification of the cartridge and the acoustic preference of the user. Adjustment is provided for MC cartridges in; gain, resistance and capacitance. In addition a switchable warp filter is provided to maximise amplifier performance.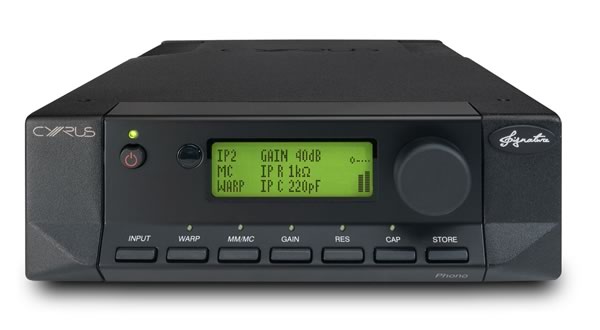 Cyrus PSX-R2 Power Supply
By providing an extremely smooth and stable DC feed, the PSX-R helps the partnered component to achieve its full potential.
This is an improved version of our longest serving and cumulatively the biggest selling Cyrus model ever. It has proven to be a wonderful addition to many system owners and continues to convince Cyrus owners to invest in a sophisticated power supply to fully appreciate the electronics they already own.
WHAT DOES IT SOUND LIKE?
We can play you a system with and without a PSX-R2 to demonstrate the clear benefits it brings. You will be able to hear that music sounds more detailed and it is easier to follow rhythms with the PSX-R2 connected. Because you will perceive new levels of fine detail the system allows you to comprehend subtle emotional nuances that expose the performer's emotion and passion. These elements are always captured in the recording but unresolved until the system is able to discern a higher level of detail.