Heed DACS

Heed Audio might be a new name to many involved with the UK Audio marketplace, but they have been established in Europe for the best part of a decade.
Based in Budapest, Hungary Heed Audio have built a reputation for producing incredible sounding audio equipment, at very reasonable prices. They don't however compramise on the quality of the constituent parts to reach a price level, even their entry level products feature discrete, often custom built components, the benefits in performance terms are easy to hear!
The brand truely established themselves with their Orbit range of turntable power supplies, designed as an add on to any turntable with a 110v 4 Pole AC motor (Rega, Linn etc.).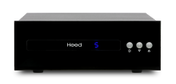 The first Orbit was an overnight success, elevating even the performance of Rega 3's to a level well beyond their price. Since then Heed Audio have built a range of exceptional components driven by the philosphy of giving high end performance at incredible value for money, the range now includes Pre-Amplification, award winning DAC's, Phono head amps, Headphone amplfiication, Power Amplifiers and Loudspeakers.
The 2004 Hi Fi Show & AV Expo at Heathrow saw Heed Audio make their first full appearance in the UK, the expo was an ideal opportunity to demonstrate the Orbit, showing it running a Linn LP12, a Rega P3 and a Roksan Radius 5. The results were very impressive!