Tellurium Q USB Cables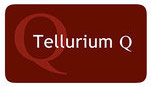 UK designed and manufactured audio cables.
The first cables designed primarily to combat phase distortion.
Four awards in the first year in the HIFi Market.
The only cable range to have ever be given product of the year by HiFi Plus for EVERY product.
The only cable range ever to be given the maximum 5 Globes by HiFi World for EVERY cable.
Tellurium Q Black USB CableFrom: £299.00

Tellurium Q Blue USB Audio CableFrom: £186.00

Tellurium Q Ultra Silver USB CableFrom: £450.00