Orb Hi end Audio Headphone Amplifiers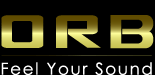 ORB is a high end audio equipment manufacturer produced by JAI Ltd. in Japan. This company was built in 1977. Many super famous Japanese companies are their customers.

In 2003, ORB high end audio was born from a passion for music. They produce high end audio equipment Feel their passion for music and the tremendous quality of their products.