Funk Firm Turntables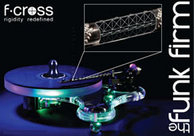 Probably the world's most creative analogue company.
The Funk Firm, as a company, is the resurrection of the principal designer and guiding force behind Pink Triangle, Arthur Khoubesserian.
The Turntable.
It has only one main moving part (the bearing).
It has been refined for 100 years.
Surely, all possibilities have been exhausted.
Yet in 2005 The Funk Firm arrived and delivered ideas as fresh as if turntables had only recently been invented.


Available

Ref. Code: FF-SA

HiFi World has just given it a 5 Globe review.

£2,995.00

Ref. Code: FFLSD

From same guys that manufactured the famous Pink Triangle turntables.

£1,100.00